Hydrangea Propagation – How To Propagate Hydrangeas From Cuttings
Hydrangea is not quite common here in Bangalore. Very few people I met, have them. What is so special about this flowering plant?. Look at this beautiful flower ball. I got this from Lalbagh and was curiously waiting for it to show its color. A very special thing about Hydrangea bloom is that the color of the bloom depends on how acidic/alkaline your soil is. Isn't that amazing?.
Its nature's own litmus paper. If the soil is acidic, you get blue color blooms and if it is basic a pink bloom is what you get.
Propagating Hydrangea from cutttings
It needs partial shade to grow and the soil should always be moist. Never let it run dry.
They will grow into a huge bush when grown in land. They can also be successfully grown in containers/pots. They prefer moderate sunlight and will do well in partial shade.The one you see in this picture is grown in 3L pot. Hydrangeas are propagated mainly from stem cuttings.
How to Propagate Hydrangeas from Cuttings
Take a cutting from a stem that has a spent flower or a stem tip with a growing shoot is fine too. Remove the bottom leaves so that there is just a pair of leaves in the stem. It should be like the one in the picture below. Next to the stem cutting is the media, in our case it was perlite. It is not a must that you should use perlite. Sand/Cocopeat works equally well.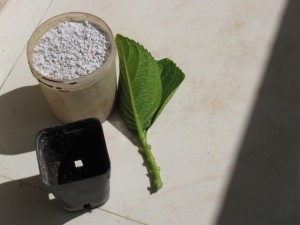 Dip the base of them stem in a Rooting hormone. They come in several forms. I used a powder. Its a practice to make a small wound in the stem by removing the outer layer of skin in the stem. It is supposed to speedup rooting by forming callous tissues.
Gently stick the stem into the pot that contains the media. Water the container and ensure there is very good drainage.
Put the container with the stem cutting into a large transparent polythene bag and seal the bag. You don't need to water it. Just keep the bag in a place that gets bright light but not direct sunlight. It will take 3-4 weeks for rooting. Periodically open the bag and check for insects/infections and seal it back.
After 3-4 weeks, gently pull the plant and you will feel the resistance. If you felt so , then the cutting has rooted. Slowly harden the plant by gradually exposing it the world outside. If you remove the bag suddenly , it will wilt. Hence, start with shorter durations initially and increase the duration gradually until it adapts to the environment.
You can see the root formation clearly in the pics below. This plant is ready to be potted up into a bigger container.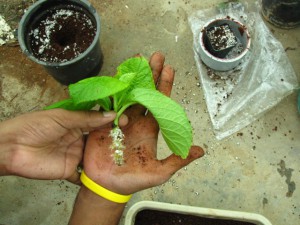 The rooted cutting is potted up into a bigger pot where it is going to spend most of its time.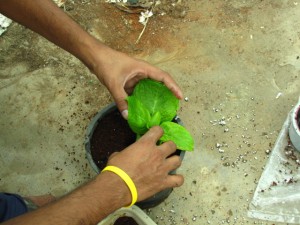 Happy propagating!
GG
Summary
Article Name
Hydrangea Propagation – How To Propagate Hydrangeas From Cuttings
Description
How to propagate hydrangeas from cuttings.
Author