Health issues took sometime that i alloted for my plants.. hence the silence. However there are updates.. Here are things that i sowed in the mean time. Chilly peppers, tomato, Egg plant and lot of other flowering plants.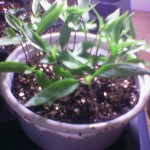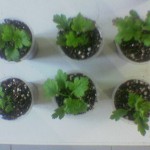 and Here are the batch of Chrysanthemum cuttings i made last week. So far they are doing ok. There were few leaves attacked by fungus but a spray of a mild strength fungicide took care of'em all.
Bear with the picture resolution. They are all taken using Nokia 6600.
I am planning to take cuttings from a big coleus bush i have in a container. More pics of it later.
🙂