As I mentioned in my previous post, I have been working on seed starting tomatoes, chilli and egg plant. I have been recording information on that at every possible stage. I sowed them on 12th of October and we are 15 days from that point now.
First I will go over the varieties I planted and then the details on each of them.
Tomatoes:
Cherry Tomato F1 Hybrid:
Ever since I came back from US, I have been craving for cherry tomatoes. I have checked nearly countless shops for cherry tomato seeds; over the phone; in person, you name it. And after I came to know the price of it(INR 900/100gms), I had a shock and I almost gave up on it. Then I casually went to Indo-American Hybrid Seeds to buy some pots and on the way I saw a shop called National Seeds(Very close to INDAM Seeds). I had a feeling that I should try one last time in this shop and Bingo! they have it. Cherry tomatoes!! Yes.. 1gms for INR 80. Not bad.. not bad at all. I immediately picked up a packet and reached home back with a Happy Face 😀
This cherry tomato is an indeterminate variety. So It will reach more than 6 feet in height and will keep beariing fruits throughout the year.
Indam – Naveen:
This is another indeterminate variety of a normal sized tomato. Wanted to grow indeterminate variety this time hence this. These varieties are not really meant for Container growing. But hey, what the heck, Lets break some rules. I have already made arrangements for the containers. This time I am going for huge 20Litre Paint buckets and since these fellas grow as tall as i am .. I have bought some stakes as well.
Indan – Rupali:
This is a determinate variety that was loyal to me lasttime by its amazing produce in container, so included that as well.
Eggplant (Brinjal) :
This is the variety that got the name egg plant for brinjal. This is a F1 hybrid variety.
Chilli(long variety):
This one is a long variety from Indam. Chilli plants are perfect for a container and trust me! if you have one plant, you will never have to shop for chilli and everytime you need one, you have a few that you can pluck from the plant and use it.
So Let me end the text here and let the pictures speak.
Seed packets:
Top left- Indam – Naveen Tomato
Top Right- Eggplant (Now you know why)
Bottom left- Cherry tomaotes
Bottom right- Need i mention that?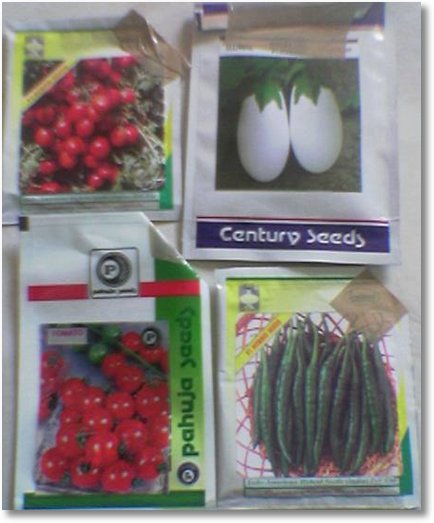 Seed starting:
Medium:
The medium I used to start these seeds are peat + Perlite ( in the ration 3:1). I didnt add any fertilizer to the mix. The plan was to fertilize the plants with a weak solution after they show true leaves.
Moist medium ready to take seeds: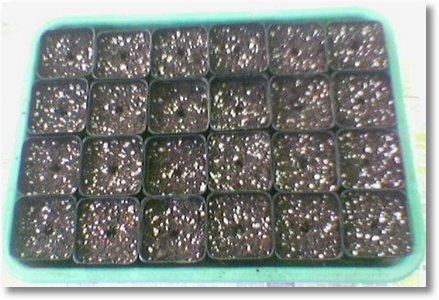 12th October:Seeds are sown and Labelled ( yes labelling is important esp when i have 3 varieties of same plant)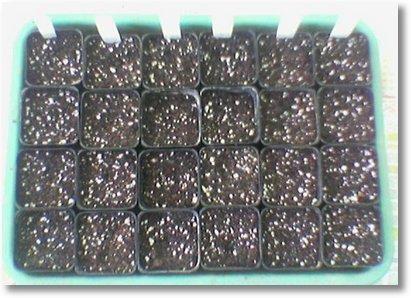 19th October: 7 days later they peek out. From the right-left Indam Rupali, Cherry tomato, Indam Naveen, Chilli, Eggplant, Zinnia.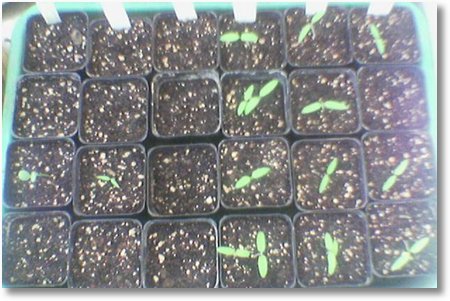 27th October: 15days after it was sown. Tomatoes were the first, then came zinnia and later egg plant, then comes the chilli finishing last. Tomatoes are having a set of true leaves and they will remain in this 2.5″ square pots until they are ready to be transplanted into 20L paint bucket.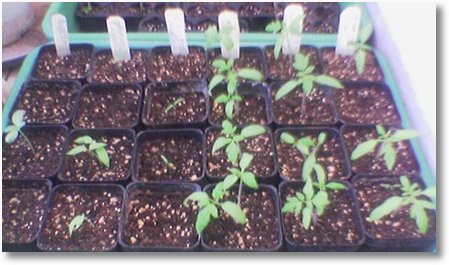 This is what I have been doing last couple weeks. In the next couple of weeks, these seedlings will grow and more work to pot all of them into bigger pots.
Wishing everyone a Happy and Green Diwali 🙂
More later
gg