Ever since I started growing vegetable in my container garden, flowers and ornamental plants took a back seat. And everytime I visit garden stores, I end up buying lots of flower seed packets and realize that I dont have enough containers to plant them. But now I got some more new containers/pots. So its party time!!.. My hands started itching to sow some flower seeds. Last sunday, the sowing finally happened.
Here are the pics…
Seed packets on the left and cell trays on the right side with plant labels on the top. Labels are DIY types. If you watch closely the seed packet on the right is Ornamental Chillies. I have been wanting to grow these since ages and finally got it a week back.
These cavity trays will be filled with seed starting mix.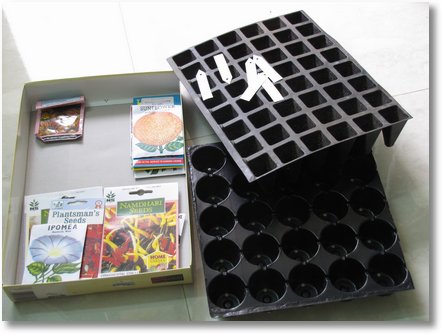 Seeds with the seed starting mix. The seed starting mix is 3:1 peat + perlite. It has no fertilizer and hence will not burn the seedlings. Once the seedlings have their true leaves I water them with a weak solution of fertilizer. Sowing is different for different flowers. For Marigold, the seeds need to be covered but coleus needs light to germinate. Care has to be taken. Spending time on reading the seedpacket will do good.
The red tray that holds the mix is from a local plastic recycle shop for Rs 30 and its such a useful item in my garden that too at a dead cheap price.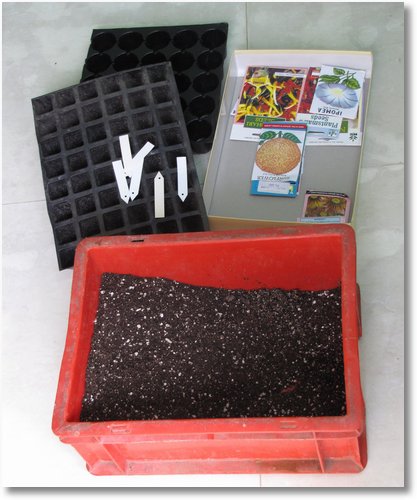 Seed are sown in their own cells and covered with a polythene sheet. I started the following seeds,
French Marigold.

Tithonia.

Ornamental Chilly.

Coleus.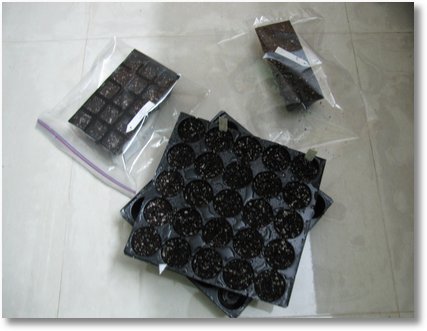 and now the most difficult job…. waiting for them to germinate..
Will keep you all posted about the progress. There are more seeds to sow.. May be someother day!
more later
gg