Gardening is all about choice. You get to choose what you want to grow, how you want to grow and where you want to grow. For apartment dwellers, the choice of place to grow is very limited and that is when containers come for rescue. Ok! now we have pots of all sizes and materials available in the market right? so where is the problem? Why a separate post for that? The problem is in the price! I am not sure about other countries or other states in India but if you are a software engineer in Bangalore, you are already paying 2-3 times the original price of a product. Especially when it comes to containers, the prices are way too expensive and it is not at all justified.
Sometime back, I checked the price of a plastic window sill planter (pic below) and its price is whopping 300 Rs!?.. I mean it was good looking and all.. but seriously 300? I just couldn't digest the fact.
Priced at Rs 300/- a piece.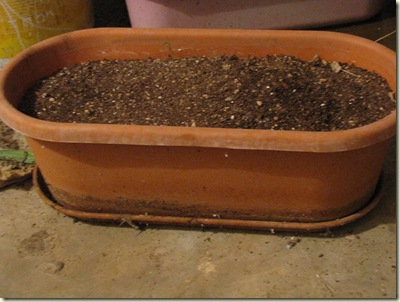 I started searching for options and found many other alternatives. I found many places in Bangalore where plastic items are disposed and trucks used to collect in loads for recycling. I checked the nearby "Gujiri shops" ( i dont know what it exactly means though), i used to pass by when commuting to work. They had lots of containers with them such as milk crates, supermarket crates. etc.  Shown in the pic below is one such. Measuring 2 feet by 1.5 feet and 9 inches deep, it is the ideal container i can get for growing coriander, palak, lettuce and what not?
Guess how much it cost me? Rs 50 a piece… that is it. There was 4 such tubs and I got all the 4 of them for 200. Now tell me why would one buy for Rs 300.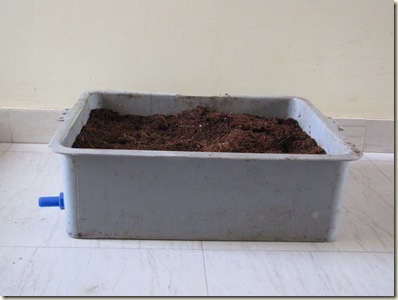 Milk crates like the one below are sold by weight. A kilogram is around 30 Rs
Lettuce is growing happily in it..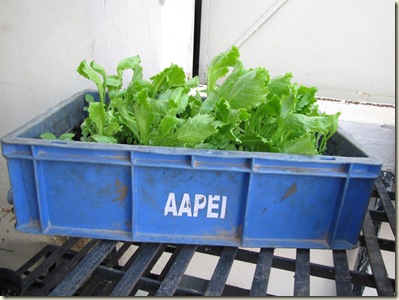 Also, dust bins are very versatile containers ,though their life is not that great and start breaking after 6 months if you keep in the hot sun. But if you are growing in balcony, it is the best you have got.
Price: Rs 14 a piece. Unbelievable but true. It holds 8 litres of media. If you buy a similar sized pot from a garden shop you will be charged atleast 75 bucks. You can buy these dustbins for the above said price only in few places. Your next door supermarket might sell this to you for Rs 50..atleast mine does. This is for Rs 14 a piece in Avenue Road.a.k.a city market.
I have grown tomatoes, Okra, chillies and am growing cabbages in these bins. Works like a charm and cheap!.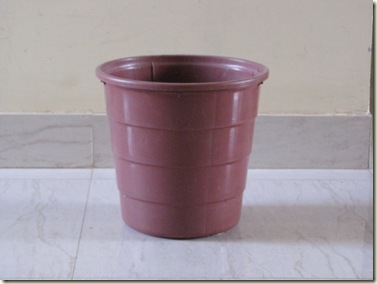 If you are looking for big size containers, paint buckets are your best friend. They come in 20L volume and has a handle too. It might cost you around 50-70rs a piece. This is a fast selling item. Many use it as a bucket.
Tomatoes, Eggplant, Capsicum grow well in 20L buckets and almost all other vegetables can be grown.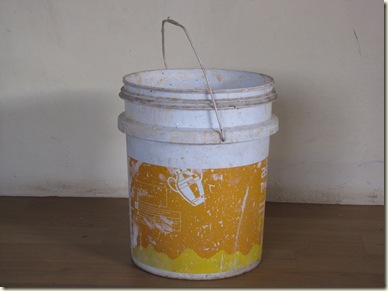 my latest addition is this tin. I am yet to make holes in this tin because it is so good. It is priced at 70 a piece. 1ft dia and 1.5 foot deep.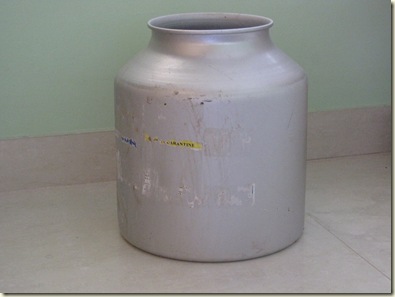 Last but not the least! Polythene and HDPE bags. The bags in which potato plants are growing came with compost. So they are pretty much free.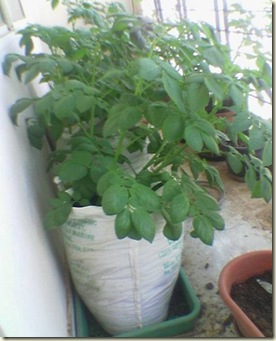 The thick polythene bag below holding a eggplant is sold at around 80/- per kg.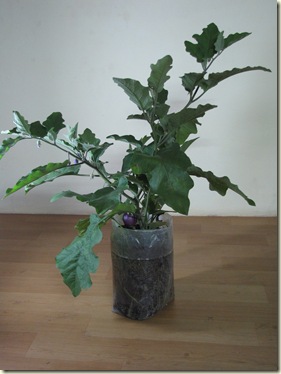 And if you have the necessary tools, you can convert old PVC pipes into growing machines. We will see about that in one of the future posts.
If you have a fat wallet  then garden shops are your friend. But if you want value for money and don't mind the looks, then there are so many options. go start searching your neighborhood. Once you find such a place you will never buy those pricey pots.
This list is not exhaustive and remember there are million more options.Creativity is the limit. But please don't use eggshells and old shoes 😉
gg