This morning I woke up and went straight to my garden like I do every other day!. But this day was different, there was a disaster waiting to be seen. I have a row of  "Pink of Berne" a pink beefsteak tomato given to me by my friend Anil Hande and few california wonder capsicum plants next to it.
When I went to water I saw some potting soil on the sides of the pot. When I went closer, i realized something terrible had happened. Almost all the soil has been thrown out in an attempt to make a burrow or something. Most of the roots have been cut and the healthy about to set fruit plant is clinging to the stake i made and no support from the soil. Needless to say it was drooping.
Another couple of beefsteak plants have been cruelly cut at their crown. Shattered by looking at all this, I went straight to my favorite Bellpepper plant and was happy to see all the peppers in good shape.
I didn't know who did all this but I was curious to  find out. Few things that came to my mind was, it could be a Rat, squirrel or Cat, but cat wont make such neat burrows. There is a Labrador dog in my apartment but he is a cool fellow and doesn't come in my way. But how can a rat come? I am in 4th floor. I started looking for any clue like footprint, droppings etc. But it was in vain.
With a sad face I started getting ready to office and when I started climbing down the stairs I observed some prints in the next floor. Thanks to yesterdays rain, the Rat's paws were wet and had made clear marks. The marks were climbing down.  I returned from my office. I thought I will tie some polythene bags in the plant which will keep moving in the wind and might scare the rat.
I went up and tied the same.It was very dark and no rats were seen. But then I noticed yet another damage. Take a look at this.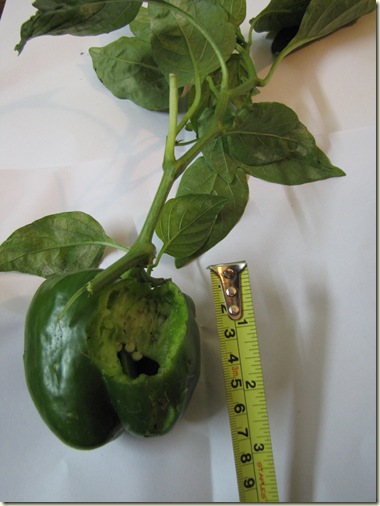 I had read about using garlic to ward off rats/mice. I minced some garlic and went upstairs to put some on every pot. That is when I noticed that little bugger standing right on the capsicum plant again. I kept shining my torch and he was fearlessly looking at me. Then the chase started. I made sure I scare the hell out of him and chased him all the way to ground floor and out of my apartment. He looked cute and all. But cant afford to lose my precious plants/produce this way. Phew
Now that he is visiting my garden, I decided to harvest all the peppers and here they are..plucked a little too early.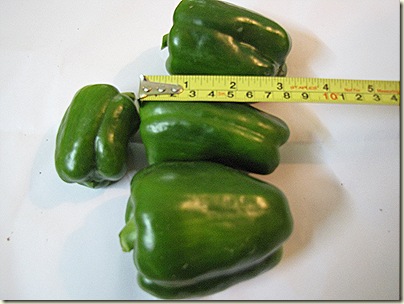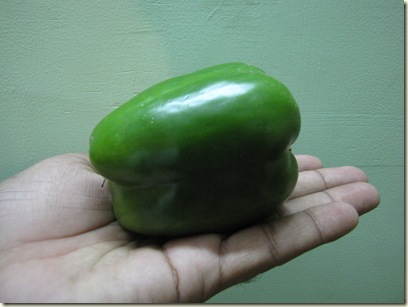 I will try some organic /safe ways to get rid of rats first .
Ah.. Its time to get some sleep…
g'nite
gg