There is no count on how many times I have longed to have large space for my garden. Anytime I pass by a house with lots of garden space but not a single plant in it, I used to feel "Why life is so unfair?". People with so much passion have only a balcony left to quench their gardening thirst and those that are not interested, have acres without a trace of green in it.
In my previous posts, I have pasted pictures of the lean garden spaces I had.The dimensions were like 1 feet x 10 feet or lesser than that. However, I managed to use every single inch of the available space. I was always trying to find new space to plant. There was a 60×80 feet site with walls next door. I even contacted the owner to check if he will let it for rent. "Don't call me again in this regard", said the owner. So I returned back to my thin balconies.
All this changed since last month, How?.. I decided to build a greenhouse/shade house on the terrace of my apartment. It is accessible by a single metal ladder. It had more than 1000 sq ft of open space. I thought it will be a great place to grow plants.. Excellent sunlight, water facility .. Awesome right?.. Wind was the only problem. But shade house overcomes it.
Met some metal grill fabricators and toyed with few ideas and finalized on one. The work started on Dec 14th. Since then, I was very busy with building my dream. I couldn't respond to many questions on the blog for this reason.
Here is the greenhouse at different stages of its growth.
Day – Zero
This is how the terrace looked. Its on top of the 4th floor and wind is at its best here.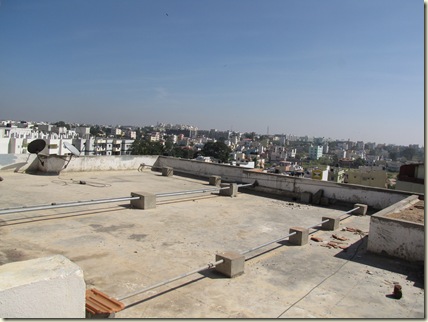 Stage One
Pillars made of metal pipes set in place. The dimensions of the greenhouse came out to be 24 x 21 feet.How cool is that?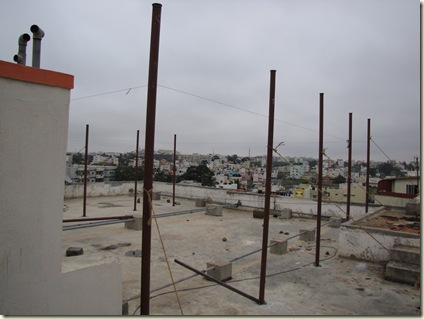 Stage Two
The metal tubings on the roof completed.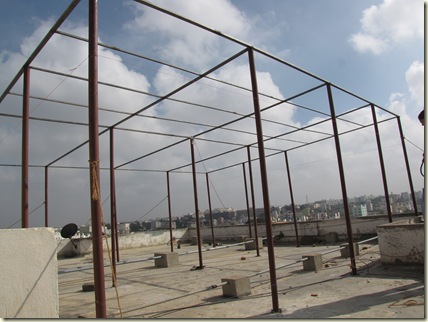 Stage Three
The pillars are connected to each other by metal rods, horizontally and there are rods welded vertically as well. Here is a shot with first coat of painting done.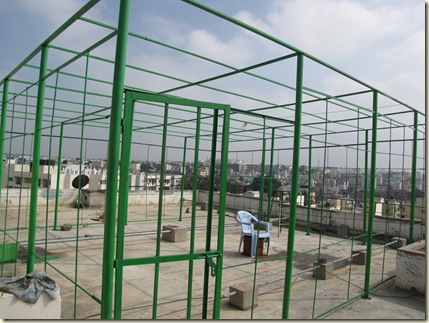 Stage Four
After like 10 days, the guy finally finished all the metal work and handed over the greenhouse to me. I had the New year long weekend for me to finish.
I went and purchased a shade net bundle ( 35% shade). It measured 4mx50m. But our roof is 24×21 feet. So we had to stitch two cut sheets to cover the roof. So, I started stitching using my ultra efficient shade net sewing machine.( a.k.a The Wife). The net was so huge that our living room floor got completely covered  and my wife was stitching the net all day long. She looked like a child labor in a beedi factory. Poor thing..
Here you see the top rectangle is covered with the shade net. It started to get a neat look but lot more work is pending.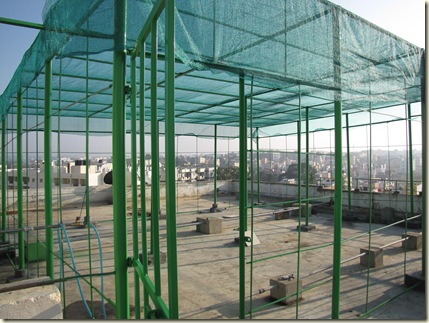 And after week,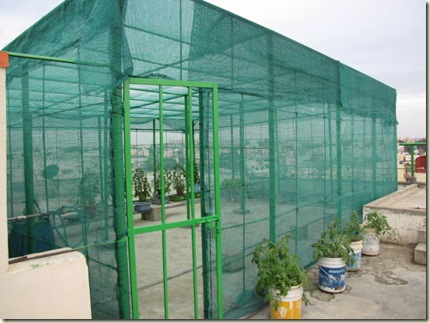 A peek inside the house..The drum stores water. The door has to be covered as well. May be tomorrow.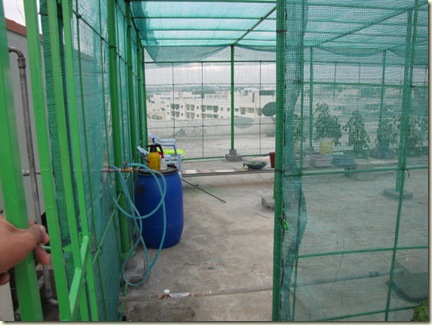 All the beefsteak tomatoes have been lined up and staked as well. You can also spot a tub full of Oak leaf lettuce.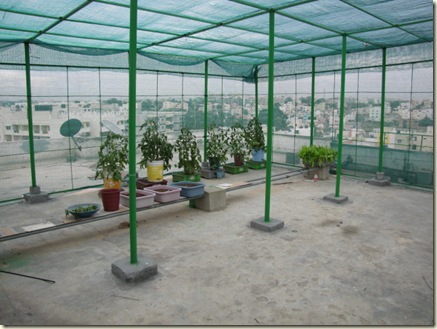 This is a tub full of oak leaf lettuce and one loose leaf lettuce.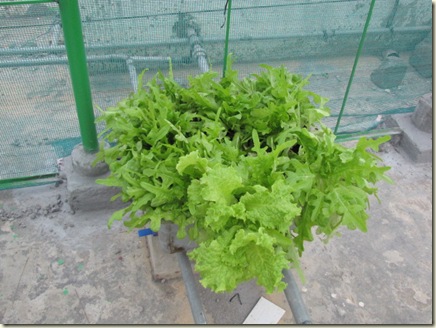 Here is yours truly, pruning in progress.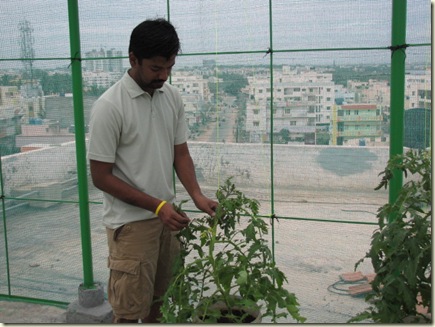 The trays are lined up for sowing. I am planning to sow whole lot of Palak, Methi, Coriander and amaranthus.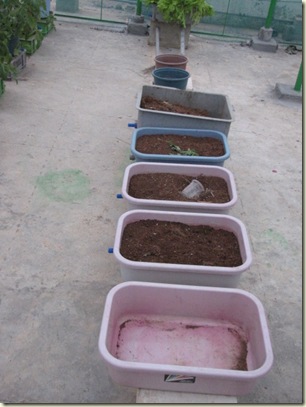 I am really happy about this greenhouse. I would like to thank my apartment neighbors for whole heartedly allowing me to use the common terrace.
A huge thanks go to my wife for her hard work in getting the netting done and to my mom who took care of the greenhouse construction while I was away at work!.
Regarding the building of the greenhouse, if people are interested I will write another post with the cost/material  details.
Enjoy!..
gg