Ever since I wrote this post, comments and queries have been pouring and the response is really overwhelming. Thanks for all that.
Questions were mostly of these categories, broadly
Is greenhouse really necessary. What's wrong with plain Terrace.
Planning and cost of the greenhouse.
Managing plants in greenhouse, ranging from light level, irrigation, pollination , humidity etc.
For the first question, the answer is a big NO. One doesn't need a greenhouse to start growing vegetable and If you want to start a veggie garden in terrace you can do so without a greenhouse. Then why on earth did I build this whole thing?. Several reasons.
Protect the plants from the wind. In my terrace, especially in the evenings the wind is at high speed and carries whole lot of dust along with it. Pots with light medium such as cocopeat can't handle the wind.They simply fall.
Protection from scorching sun. Bangalore weather is pleasant most part of the year but the it is hot enough to evaporate all the water that a pot can absorb. This makes watering the most important routine in your life. Sometimes You need to water the plants twice if they are kept in open sun.  No matter what, if you fail to water single day, a drooping plant awaits you the next morning. Needless to say the yield takes a huge hit.
With the shade net in place, you reduce the water loss through evaporation and also you can grow veggies that need partial shade/less sunlight. I have lettuce growing in the terrace.
Protection from birds. Sometimes, birds are a menace too. I have lost many cherry tomatoes because of birds.
Greenhouse framework gives lots of options to trellis the plants, train tomatoes etc.
My idea initially was to find a neighboring plot of land and construct a greenhouse or something similar. There is beautiful fenced 60×80 feet land, right next door, fully occupied by weeds/shrubs. I called up the owner of the same and checked with him if I can grow some veggies in pots in his land and I would pay some nominal rent for the same. The response was "I don't have any intention to sell/rent my plot. Please don't call me again in this regard"..Bummer. My plan B was terrace.
The stairs you see below is the only way to access so much of space available in the terrace. The entry to this space is behind the stairs and that gap between the stair and wall on the left is so narrow that pots of bigger size wont come in. On the right side of the stairs, is what you don't wanna see. You are on the 5th floor and its quite scary to the ground from this point. While climbing the stairs, I tell people, not to see on their right. Few don't come up just for this reason.. And for me, this is a good thing. I get less intruders right!?.. 😉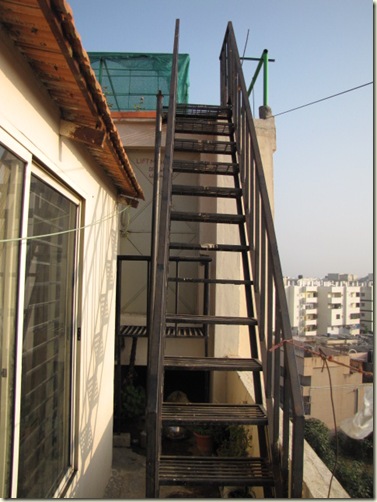 Now that Terrace is my only ray of hope, I started planning for a greenhouse/shade house keeping in mind the following things
Protection for plants against winds, scorching sunlight, rain.
Water management  ( Irrigation , Drainage)
Protection from pests, birds etc.
Structure.
I spoke to few people who deal with greenhouse and either their quotation was very high or they simply did not deal with shade houses of this minute size. So I decided to do it myself.  I spoke to few metal structure fabricators and they gave some advice on the kind of metal structures that can be used to build one on a terrace.
After having negotiated on the price front, the work started.
Before proceeding further, I would like to warn that the price figures you are going to see will cause little uneasiness and hence if you are weak hearted, pregnant or having any health condition please proceed with caution ;).
Here are the list of materials needed.
2.5" Metal tubes (Gauge – 14) : 10 Lengths [ One length = 20 feet]

Price per length is around 650 INR. Depends on the price per kg for Iron.

40×20 rectangular tubes (gauge16): 10 lengths
3/4 inch Square tubes (Gauge:16): 11 Lengths.
1 1/4 L angle: 8 Lengths.
All this put together it came around INR 14000.
The metal tubes are erected on the terrace with the help of Anchor Bolts. You get this in almost any hardware shop. On Day 1, the metal tubes were cut in lengths of 8 feet. I made this greenhouse in such a way that it is 9 feet in height on one side and slopes down the 8 feet high on the other side.  I got a the roof sloping on one side. Though it is not much useful with shadenet, it will be of use if  a polysheet is put on top.
After the pillars were bolted to the floor, the top of the pillars were connected using #2 – rectangular tubes. The picture will describe it better. Sorry about the shabby drawing. The circles are the pillars and the thick lines are #2 rectangle tubes and the dotted lines are #3 square tubes.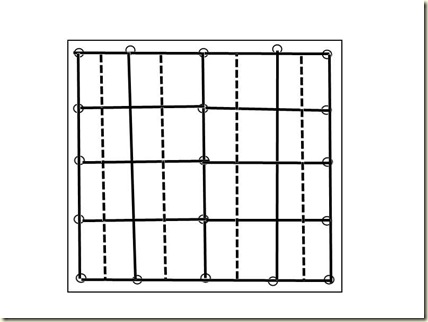 Once the whole framework was completed, it was time for the concrete work. The point where the pillar joins with the floor was chipped a little and was filled with concrete 9" high. This prevents water from getting into the holes that were made for the anchor bolts.
The total cost, including the labor and purchasing of all other misc items required for the work came to a whopping 25K. As usual I now feel that I could have got the costs down, by reducing on the materials or their gauge.
Now, the finished greenhouse had to be covered. I went in search of Shade net. Lots of reading, calling people, and visiting places happened. I decided to put 35% shade net. Very few shops stocked 35%. I picked up a bundle ( 4mX50m) from a shop in J.C Road for Rs 15 a square meter. Along with it, I purchased a bundle of U.V Stabilized stitching thread to stitch the net where a joint is required.
Covering the whole greenhouse with shade net was a mammoth task. We spent a long weekend to finished. My whole family participated ( Did they have a choice?) in building of this and at the end of the weekend, we were so tired but the sight of the finished greenhouse was a pleasure.
gg