Last Sunday, the kitchen garden day was a great success.  The meet up was after noon so most of them had enough time to attend many other events happening in and around Bangalore in the morning. . I had packed all my seeds, labeled them and was all set for the meeting to begin at 1 PM.
Exactly at 12:55, I get a call from the early birds regarding the meet. I was excited and motivated because of their punctuality. I received them and we went to the meeting hall. While we were discussing, a few more entered. More introductions happened. In just a matter of minutes all the seats were taken and we were house full
.
After an initial round of introductions, we started discussing about everyone's garden and what they were growing. Slowly it became a full-fledged question and answer's session which was good. I took this opportunity to give a short session on how to start a terrace/kitchen garden. This session, woven with questions and answers took a good couple of hours.
There were seeds and plants on display. Some of them swapped and others bought the seeds. The most sought were the strawberry plants brought by Asha. I had a tray full of Parsley, tomato and coriander seedlings to giveaway. After the talks, we went to the greenhouse for a short guided tour.
We had fun! Look at the picture below.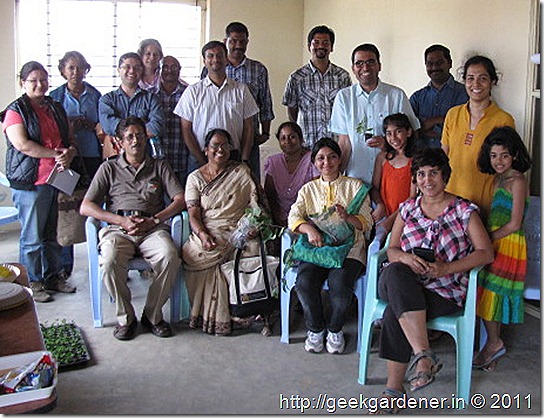 To all who made it to the event, Thank you so much for making it a memorable event. I really appreciate people who came all the way from other side of Bangalore such as RT Nagar, Yelahanka, Jakkur etc… It shows your passion towards gardening.
Thanks once again!.
To those who missed, not to worry. There will be more such events in future, so watch this space.
As always, Happy gardening!
GG