Today was special.. This morning I harvested those much awaited tomatoes. Yes, the day had come. This is the day I was waiting since the day I sowed the seeds. Though I had done tomatoes earlier, this time was different. There is this much awaited cherry tomato, which bore lots of tomatoes in a single stalk. I always pluck tomatoes when they are green and ripe them indoors.
Apparently there are many who have interests in my tomatoes. The guests include squirrels, pigeons and workers in the building ;). I dont want them to be tempted. Who wouldn't be..
Let me stop talking and let the pics do their job..
Its such a pleasure to see tomatoes with their stalk.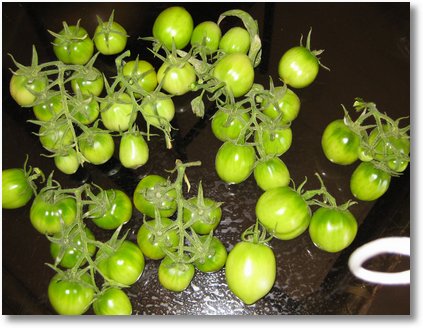 This is from an Indeterminate variety- Indam Naveen. My fertilizer regimen was not that very good. Inspite of that, these babies did a great job.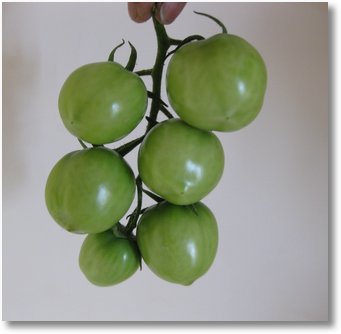 Here is the much awaited cherry tomato. There are more than one stalk here. This is the first batch of tomatoes whcih suffered some serious blossom drop. Once ripe, they will be so sweet not just to eat but to look too.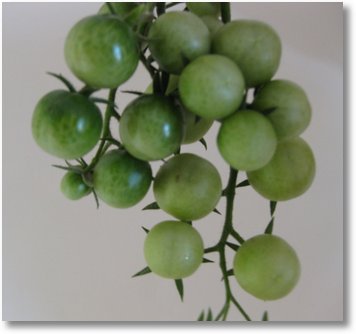 There is one tomato (bottom left) in the pic below, with a brown rot.This is a sympton of Calcium deficiency. Its called Blossom End Rot.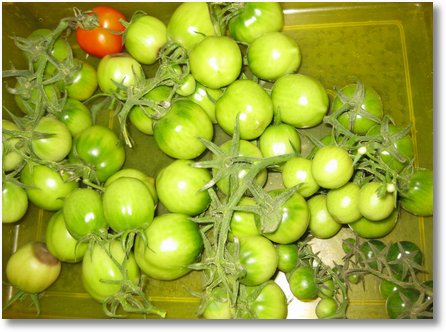 Tomatoes after their crowns removed. I will keep them in the rice sack that seems to speeden their ripening process.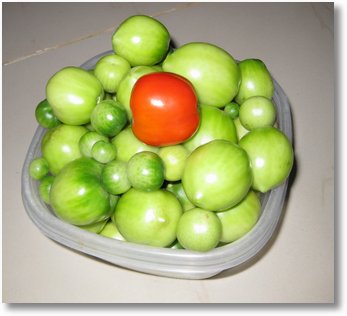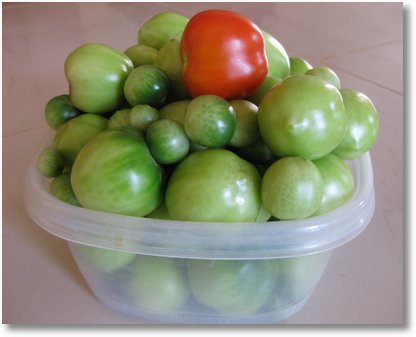 I have blogged from the time I sowed the tomato seeds (Oct 12, 2008) till the day I plucked tomatoes(Jan 7, 2009) from it. Its has been a great learning experience. I thank everyone who encouraged/motivated me esp my blog readers who were curiously asking about the progress. I definitely will feel guilty to consume the tomatoes by myself.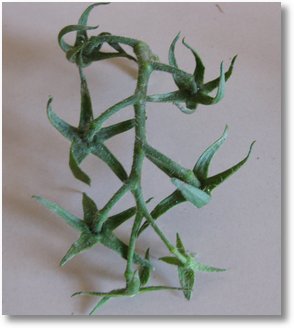 I guesstimated the weight of the tomatoes I plucked and turns out its approximately 2kilograms.
Tomato seeds = Rs 50
2kg of tomato = Rs 60 (approx)
But the tomato stalk above = Priceless…….
Did I mention that my long wait for the potatoes saw its end last week. No It was not the right time for picking potatoes, its just that my patience ran out. I am known for my impatience …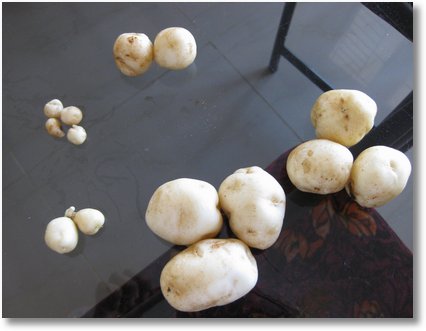 This is actually from two plants. The potatoes from the first two plants never get to pose for my camera. 😉
I actually expected more from these plants considering the amount of hardwork i put. But with the very little sunlight we get in the balcony this is not bad. So.. better luck next time.
This time I left my tomato plants to get bushy and didn't really prune them properly. There are lots of suckers that arise from the plant that result in the nutrition being spread across and not resulting in big friuts. I am planning to raise just two tomato plants of indeterminate plants following a textbook method to see if i can get bigger fruits.
At somepoint in life, everyone should garden and feel for themselves how harvesting from your own plants is like.
geek 'Happy' gardener.