Last week I was on vacation, so nothing much happened in BlogVille. But there are lot of things that had happened in my garden both good and bad.
During my absence,To water my plants and to take care of them, I appointed a maid and I gave her one day training on how to water ..esp those tiny beefsteak tomato seedlings …With all this prep work done, I was all set to visit my inlaws in North India.(Uttar pradesh)
I spent almost a week, visiting many places which i will describe in a different post. Today I returned home, Anxious about what happened to my plants. I ran to my terrace straight from the taxi.
First, I was so happy and excited to see my garden after a weeks time. It feels like I was away for years and they have grown so big. So many tomatoes…..so many vine riped ones. Stupice early tomato was fully of red ripe tomatoes.
Then I rushed to see if my 22 fruit cluster cherry has fully ripened. I was shocked. So many cherries have been plucked and many fell down. Many had cracked and poked by pigeons. I was able to collect the fallen ones and discarded the cracked/poked ones(might use then for seed 😉 ).
This weekend too, I will be out of station, So I didn't want another tomato to go waste. I rolled up my sleeves and harvest all the red looking toms. Guess what, I ended up with so much.
This contains tomatoes of the following varities. Maskotka, Washington Cherry, Stupice early.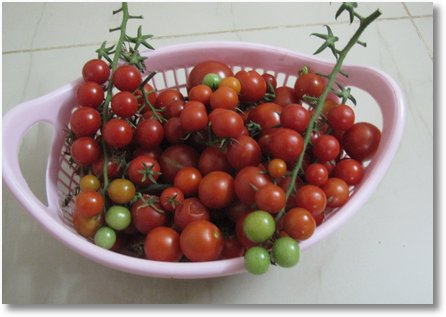 Fish bone truss with few cherries taken away 🙁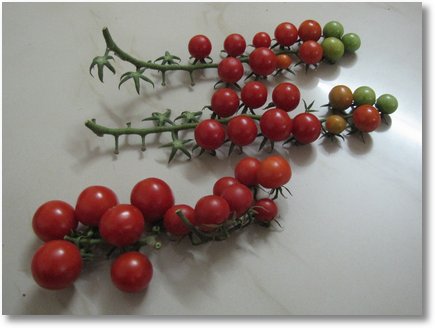 Another shot of the same basket. I weighed the tomatoes after I plucked them. It came about 3.6 Kg. 3610 gms to be exact. Not bad huh!?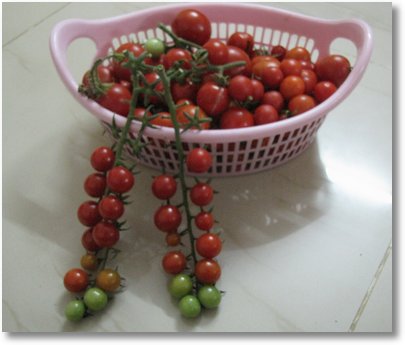 More later
gg