On 12th and 13th of this month, there was an Organic Mela conducted in Lalbagh.I couldn't make it on 12th and ended up missing interesting talks by experts in agriculture. However, I did go on 13th.
The purpose of this Mela was to introduce the progress of Organic movement in Karnataka to outside state representatives and also to bring in awareness among the Bangalore consumers about the organic food products, agro diversity and food traditions
The day started around 10ish there, I went there by 11:00. There were many stalls selling organic seeds, organic food produce and books. Then there was an exhibition in a big hall.
This exhibition took my breath away!.. Rice/Paddy is the first thing I noticed. But hang on.. this is not the usual kinds of rice that we see and eat everyday. They were really distinct varieties. In the sense, they are either in a different color or different shape.There were more than 80 varieties of rice. One in brown, other in black and one with black streaks in white, and I can keep mentioning the varieties on and on.. There were so many. In my whole life I would have eaten like 3-4 varieties of rice. There is so much more to explore…
I met one farmer named Syed Ghani khan. He grows 116 varieties of mango in his 20 acre farm near mysore. He grows not just mangoes but along with that he proudly grows 80 varieties of rice. He shared a small story. These mango trees were planted by his Grandpa who served in Tippu sultan's army. And he also mentioned that Tippu used to get mangoes only from his farm. Tasting 116 varities of mango .. not many get to do this.. "Its good to be the King"
After this wonderful meeting, I moved along the stalls and met many.I also was lucky enough to spot Stephan of Annadana fame. He was one of those people who setup annadana seed savers and without his efforts we wouldn't be talking about yellowpears and greenzebras. I met Mr Krishna Prasad of http://www.sahajasamrudha.org/. Him and his wife are doing a great job of running this organization and saving so many native varieties of rice and several other vegetables. What they do cannot be explained in few lines. Please visit their website and read in length, their success stories.
Then there was lunch. It was special in a way that it is made of organic produce ( needless to say!) and made out of millets. It was tasty indeed.
Then comes the 2nd part of the day. Did I tell that I was giving a talk on Container gardening on 13th evening in Lalbagh?. The talk was scheduled at 4.30 to 5.00. Yes Its only 30 minutes. When I heard from Krishna Prasad, I was little surprised. Is it possible to deliver a talk on container gardening in 30 minutes ? There were series of talks on urban farming, roof top gardening and organic farming by very famous people. In that group, I was there to bring the average popularity down ;). There were challenges, many of the audience were more comfortable in Kannada language than English. I could understand that. My presentation was in english.Luckily there was a gentle from DoH Hulimavu, who was translating my speech. I also met some of my blog readers. It was good to attach a face with the name. While only the folks who attended can tell how good/bad the presentation was, I was little happy that i was able to spread the message that anyone and everyone can grow their own vegetables. May be if I had more time, I could have conveyed all that I had in mind.
I returned home with a gift basket that contained spices like Jeera, Pepper, Mustard that are organically grown. It was supplied by Era Organics.
Next day, I went to my garden and came back with this…..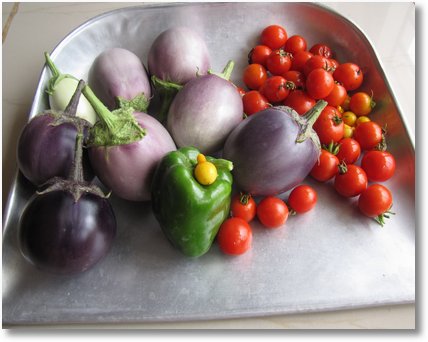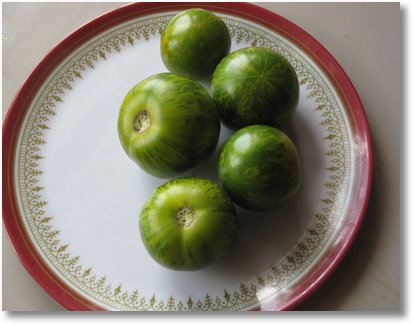 And the day after that.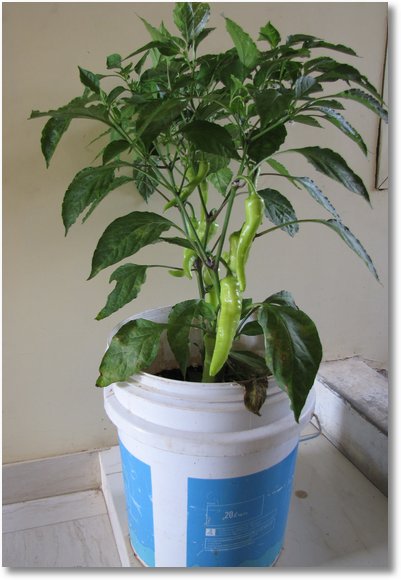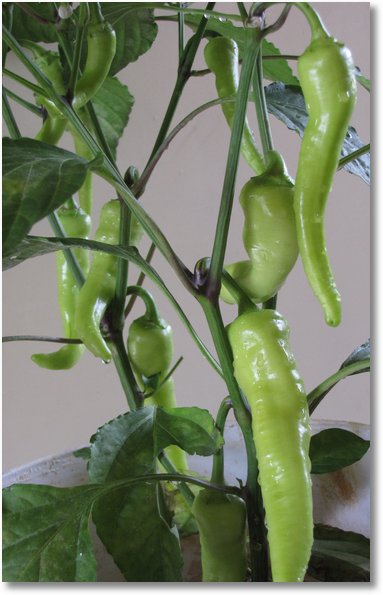 The pepper shown above is "Banana Early". Surprisingly it doesn't taste hot like the "Bajji" pepper though it has got the looks of it. It goes very easy on your taste buds and has a hint of sweetness. This variety is vigorous, yielding about 50 peppers per plant. In the above picture, there are two plants in a 20L paint bucket.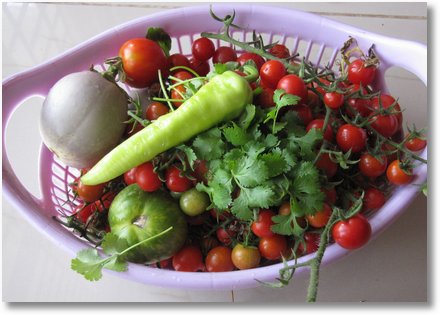 All these days, I thought I was the only mad-about-gardening kind in my apartment. Turns out that was wrong. The apartment maid, came to the terrace the other day with whole bunch of tomato plants ( at the transplant stage) and told me to get 10-12 pots. Where will go for 10-12 pots?. Anyway where there is a will there is way!! isn't it?. Myself and the maid, just managed to do some shuffling in the garden and got around 8 pots. We planted the seedlings. They are all of the "Nati" kind. I mean, the local varieties. Now, all of them have small fruits forming. I am surprised, one of them has long oval fruit and the other is short and flat like pumpkin and one has a lemon like appearance. Now she gave me a small bag full of native coriander seeds that is supposed to have a deep aroma.
My apartment security guard, looking at the kind the veggies in the terrace, he bought a pot and started growing onions and garlic. He daily waters it and demands that I give him compost every week. So nice of him. I wish everyone starts like this…. some day!
See the vegetables grown and tell me.. Don't you wanna start your garden?
Life begins when you start a garden.
gg