When I posted about Growing Watermelon in Containers in my last post, little did I know about the traffic it is going to receive.
The post featured in WordPress' front page (FreshlyPressed) and the visitor count increased by 10 times the usual. Thank you so much for your overwhelming response.  All your suggestions and comments motivate me a lot.
After reading the last post, I am sure many of you were wondering how the melon tasted. I did too.  I waited and waited. The sign of ripening for watermelon is the distinctive sound when you knock on the fruit with your finger. For sugar baby, the outer skin (rind) becomes very dark green in color(blackish)  when it is ripe. If you remember I had showed pictures of 3 melons. Two of them small and one that is bigger.  I decided to pick them and taste.. come on how long can a gardener  wait?.. All three of them were of the same age. I picked the smallest of all first.  It was very compact and I would call it as 1-person-watermelon. It was around 600gms and quite small.
This is how it looked when cut. I was so happy that it was "red" let alone sweet. I took a small slice and tasted it. Wow!!! It was so sweet. I knew the right person to give this to.. the 3 year old kid next door. It was quite big for her hands and she did total justice to the fruit. She ate the fruit with juice dripping all over her face. The smile on her face showed how sweet it was. She thanked me with a flying kiss.
This one was the next biggest one. GG and family gobbled up in minutes.
Harvest two of them already and I wasn't done.  Patience? What the heck.. Took the cutter and brought home this beauty. It weighed a humble 1.79 kilograms.
This is the moment you wait for. The seeds were very less in number; thin white rind; bright reddish flesh. The sweetest watermelon I have ever eaten. Trust me this is no exaggeration. I shared a half with my colleagues and they felt the same.
Tempting?..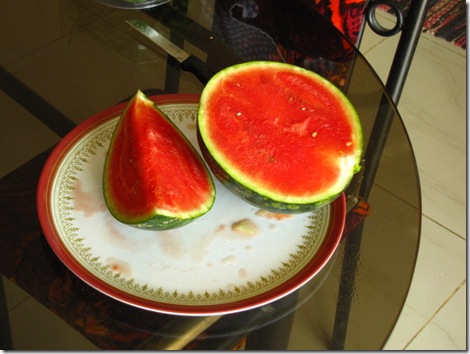 Don't worry if you didn't already sow some seeds of watermelon. Its still not too late. Try sowing some today.