Ghost Peppers Harvest
The post on Bhut Jolokia, the ghost pepper, I made some time back got lot of attention and so many of the readers wanted bhut jolokia seeds too. No post on growing a vegetable is complete without talking about its harvest and Bhut Jolokia is no exception.
One aspect that is very different from other chilli plants is that the number of flowers. Bhut Jolokia flowers profusely with multiple flowers in a node. Not all of them set fruit. At least in my greenhouse ( with limited pollination), I was happy that 1 or two set fruit.
The plants are very sturdy and grow vigorously.
The fruit, as you see is little wrinkled and kind of gives a "bad boy" look. Believe me, the taste is no different from its looks. Very very fiery. I even thought I will post a picture of myself tasting it!
I consumed few when they are green but for seed saving, I let all of them ripe on the plant. Look at the pic below. The whole plant was looking like as if there were 100s of Chinese lanterns hung on it.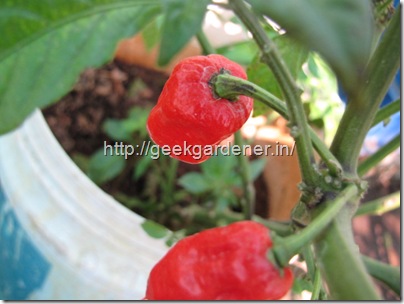 What you see below is Batch #2 harvest. The previous batch was almost this much but the fruits were little bigger in size. All this will become seeds in a few days. There is still more fruits waiting to be plucked.
Every visitor who come to visit my garden gets so much excited when I tell them "This is the hottest pepper in the world, The Bhut Jolokia". Few of them took a fruit or two to their home to taste it.  As always, I warn them before giving the pod. This is no Child's play.
If you are looking to buy seeds of Bhut Jolokia / Ghost peppers, You can do so at Garden Guru
Next post: Caro rich, An orange beefsteak tomato that broke all previous records in my greenhouse in terms of weight. Stay tuned!
GG
Save
Save