Growing Coriander – How to grow coriander
Coriander a.k.a dhania in india a.k.a Cilantro in the west is something that is used everyday in Indian cuisine. Either the seeds or the green leaves spice up our food. This makes Coriander a must grow for every kitchen garden. The reason it is an ideal candidate is a) it is very easy to grow b) grows very fast c) you can get the yields at a very early stage and it keeps yielding.
This post is all about How to grow coriander  in containers. Coriander plant doesn't transplant well. So choose a container thats big enough to grow many plants. I usally use trays/tubs to grow them since the soil surface is more in tubs and hence we can grow multiple rows of coriander.
Coriander Seeds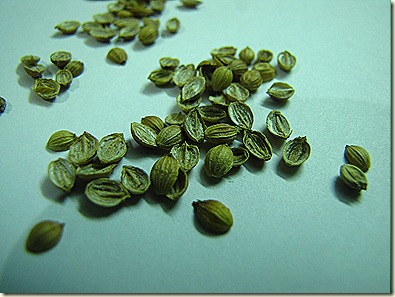 Coriander seed is technically a fruit containing two seeds in it. So the round thing that you see has two seeds in it. Each of them will grow into a coriander plant. The fruit can be sown whole or split and sown. When split, it increases the germination rate since it scarifies the seed.
Here is a picture of how a split coriander seed looks like
So how to go from a whole coriander seed to a split one. The way I do is, I wear a slipper in my hands; thats right! in my hands. Spread the seeds on the floor ( preferrably a rough floor and not the tiles) and keep the slipper on the seeds and gently move the slipper while pressing them. This is not the place to show your strength. remember we are not making coriander powder so be gentle ;).
Try it. The good thing about gardening is you get to do things you would have never done before :D. One can sow the whole seed as well. It is more easier when you split.
Planting Coriander  – How to plant coriander
I took a tray with potting mix filled all the way upto half inch from the top. Then make rows by drawing a line with your index finger or a stick. Simply sow the split coriander seeds in that row and once it is done, cover the seeds with coco peat. Water them properly and wait!.
Coriander seeds  start germinating somewhere between 5-7 days. It will look like this..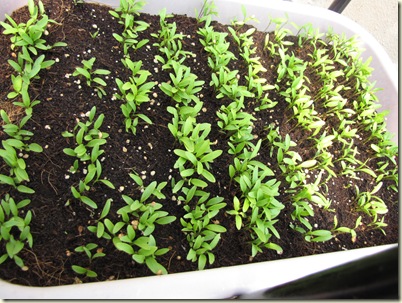 once they start germinating, keep them in a place that receives good amount of sunlight.
They will start growing vigorously and will look like the pic below.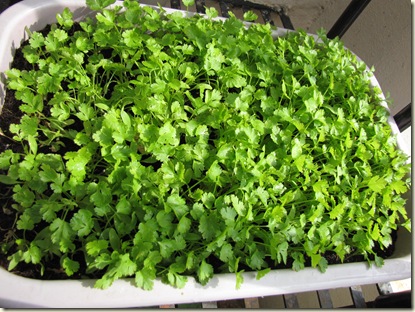 In another 10 days time, they should be ready for use.
How many times we get sad looking, drooping coriander leaves from the market after paying so much for it. You get to grow fresh coriander like this if you do it on your own. Think of the coriander pot as a natural refrigerator that keeps things fresh for a looooonnng time ?..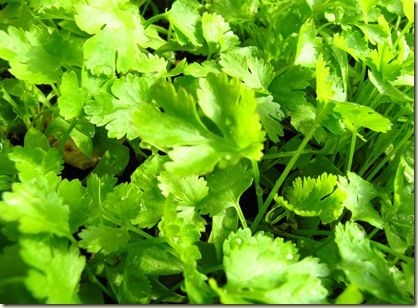 Enjoy!
gg